The Best Pellet Grills for Backyard BBQ Offer a Mouth-watering Way to Cook Outdoors
Backyard BBQs and cooking on a grill are popular outdoor activities. But the best wood-burning pellet grills take outdoor barbecues to the extreme. (And we mean that in the best possible way.)
Gas grills and charcoal grills have dominated the art of barbecuing for decades. That's because both kinds of grills have their own advantages. Cooking on a gas grill is convenient. Propane gas provides a clean, mess-free burn, and a gas grill starts instantly. Meanwhile, cooking on charcoal grill is a time-honored tradition. Charcoal gives you better control over the shape and size of the grilling fire.
But the best pellet grills create the perfect environment for cooking meats—and just about anything else. We love cooking outdoors, and we love cooking on a wood pellet grill. So, we decided to spread our love by reviewing the best pellet grills for backyard BBQ cooking.
What's So Great About the Best Pellet Grills?
In a word, it's smoke. The wood pellets used to heat a pellet grill create smoke that flavors the meat you cook. Most people love the smoky taste a pellet grill imparts on all kinds of meats, including steaks, beef and pork ribs, chicken and even burgers.
In addition to providing a smoky flavor, a pellet grill gives you more temperature control. The flow of the food-grade wooden pellets can be adjusted to increase or lower the cooking heat. The best pellet grills for backyard BBQs have an electronic thermostat and a digital temperature display. Just set your desired cooking temperature. The pellet hopper continuously releases the perfect amount of pellets into the firebox to maintain that temperature.
What Powers a Pellet Grill?
Standard household electricity powers a pellet grill. Just plug the grill into an electric outlet. Then turn the digital controller on. To create the heat for cooking, a rotating auger moves the pellets from the pellet hopper to a cylinder-shaped chamber that contains the heating rod. Electricity running through the rod heats it up, thereby igniting the wood pellets.
The smoke and heat created by the burning pellets is circulated within the cooking chamber by a blower fan that runs continuously. This keeps the temperature even throughout the cooking chamber.
An electric thermostat constantly monitors the temperature. When the temperature dips below your target cooking temperature, more wood pellets are delivered to the ignitor.
Is Pellet Grilling Easy?
Yes. Folks who love cooking on pellet grills say this method of cooking combines the best of gas grilling, charcoal grilling and 21st century technology. Basically, a pellet grill is a wood-fired convection oven—with wood smoke to flavor the food. That makes for very even, very predicable cooking. Some people even bake pies in their pellet grills. Seriously.
The best pellet grills heat up in about 15 minutes. That's about the same time as a gas grill. Plus, the design of a pellet grill includes a metal panel located above the burning area and below the cooking area. This prevents the giant flame flare-ups that can plague other BBQ grills.
Sure, some barbecue purists say it's too easy to cook with a pellet stove. But isn't that the point? And what's wrong with easy?
A Word About the Wood Pellets
A pellet grill is nothing without the wood pellets. The standard pellets come in 20-pound and 40-pound bags. There are also lots of varieties of wood pellets, which include hickory, apple, mesquite, pecan and many more. There are even Jack Daniel's branded wood pellets. Each different type of "flavor" pellet gives cooked food a different taste.
A standard 20-pound bag of pellets provides enough heat for several cooking sessions. But, of course, conditions such as external temperatures and the length of your cooking times will impact how long your bag of pellets will last. So, make sure you've got at least one extra bag. And don't be afraid to experiment with some of the "flavor" pellets that strike your fancy. Buy Pellets Here.
Editor's Picks: Best Pellet Grills for Backyard BBQ
There are so many outstanding pellet grills available. So, we couldn't just pick one or two models to recommend. Instead, we divided up the most popular wood pellet grills into three categories: Best Top-Line Pellet Grills, Best Value Pellet Grills, and Best Portable Pellet Grills.
The Best Top-Line Pellet Grills offer more features and extras, including a larger cooking area, heavy duty construction and Bluetooth connectivity. The Best Value Pellet grills are the best picks for a more modest budget. These grills don't have every bell and whistle, but they can still cook a delicious, mouth-watering meal. The Best Portable Pellet Grills are designed for tailgating and camping.
Here are our favorite grills:
Best Top-Line Pellet Grills
This is our favorite of the best Top-Line Pellet Grills. If budget is not an issue and you want the best overall pellet grill, take a close look at the Traeger Pro Series 780 Pellet Grill.
For starters, Traeger is the biggest name in pellet grills and smokers. Joe Traeger developed his namesake Traeger Pellet Grill in 1985 and patented it a year later. Because of this patent, the Traeger company was the only maker of pellet grills until 2006.
Today, there are lots of different pellet grill manufacturers. But the Traeger name still connotes quality and dependability. The Traeger Pro Series 780 Pellet Grill takes backyard cooking to a new level with precise temperature control for even, dependable cooking. The Traeger Pro Series is the best-selling pellet grill—for good reason. This beauty offers the versatility to grill, smoke, roast, bake, braise and BBQ all on the same grill. The built-in meat probe allows you to cook meats to absolute perfection.
The "780" in the model name refers to the 780 square inches of grilling space this unit offers. According to Traeger, the upgraded Pro 780 with D2 drivetrain (to move the pellets from the hopper to the heating element) starts faster, heats up quicker and puts out better quality smoke.
The built-in WiFIRE technology connects this grill to your WiFi via the Traeger app. That means you can control the grill with your smart phone. The built-in Alexa technology allows you to speak your commands, too. (You have to buy a separate Alexa unit.) Plus, the Traeger app gives you access to hundreds of great recipes.
The Traeger Pro Series 780 sells for about $999, and we think it's worth every penny. Check Availability and Shipping.
Weber grills are known the world over for quality. This company makes outstanding grills that cook great and look great. The Weber 23510201 SmokeFire EX6 starts with a massive 1,008 square inches of dual grilling space and a DC-powered engine that is designed to prevent auger jams.
Adjust the temperature setting for cooking anywhere from 200 to 600 degrees. The large-capacity hopper holds an entire 20-pound bag of pellets the keep the fire burning.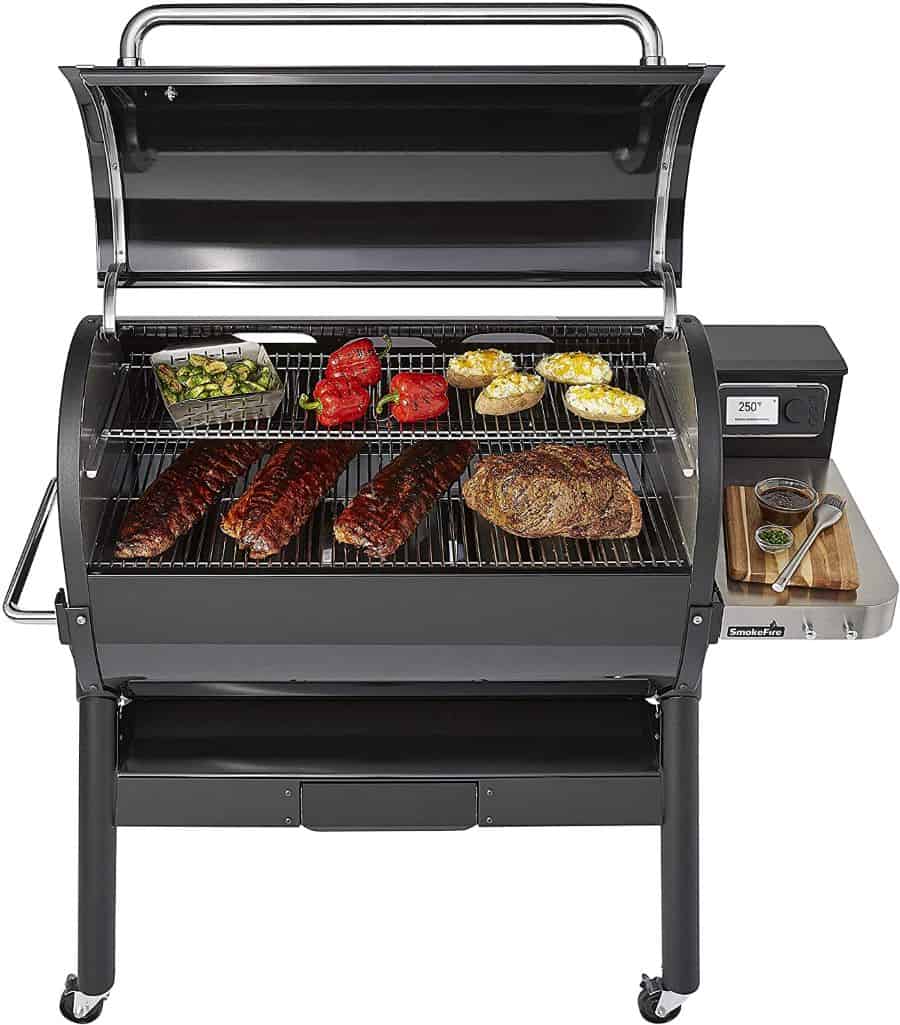 The Weber porcelain-enamel finish is built to withstand them elements and prevent rusting and cracking for many years. And the easy-to-read LCD display screen is weather resistant for years of dependable use. Ash from the pellets and cooking grease fall down into a drawer that's easy to clean.
This grill includes two meat probes to ensure your meat is perfectly cooked. In addition, your home WiFi and the Weber Connect app gives you convenient smart phone control over your cooking.
If you've always loved cooking on a Weber grill, you are going to love cooking on this Weber SmokeFire EX6 wood-fired pellet grill. Check Price and Shipping.
Best Value Pellet Grills
The best of the value-priced pellet grills cook and grill about as well as the more expensive models. You just don't get as many extra features to brag about. (Such as WiFi connectivity.)
The Camp Chef SmokePro is a prime example. Want to grill, smoke, bake, roast braise or barbecue? No problem. This grill has you covered, with 811 square inches of cooking area.
Assembly is easy with the step-by-step video on the Camp Chef website. You can be ready to cook in minutes. The ash cleanout feature is convenient, with an easy-pull lever to clean out the system.
One of the features we like best about this grill is the handy fold-up or fold-down shelf at the front of this grill. Need a quick place to set a platter or a pair of tongs? Presto, there's your shelf. We don't know why more grills don't offer this.
This Camp Chef is a great choice for under $600. Check Price and Shipping.
With 700 square inches of cooking surface and lots of handy features, the Z Grills ZPG 7002E is a solid choice. The main cooking area is 513 square inches, and the second rack above has 187 square inches.
This model has digital auto temperature control and electronic auto-start ignition. An advanced pellet feeding system ensures a steady supply of pellets for all your grilling needs. The hopper holds 20 pounds of pellets, which is standard for most pellet grills.
Sure, Z Grills says this pellet grill provides the ultimate 8-in-1 cooking experience (grill, smoke,  sear, braise, bake, roast, BBQ and char-grill). But every pellet grill does that. (And what's the difference between BBQ and char-grill?) But no matter. The Z Grills ZPG 7002E is a fine grill at a good price. And you even get a free water-proof grill cover. Check availability and shipping.
The Pit Boss Classic 700 is another good choice among value-prices pellet grills. This model is made of high-temperature powder-coated steel with porcelain-coated wired cooking grids. The upper and lower cooking grids offer 700 square inches of cooking space.
This grill, like those mentioned above, has a digitally controlled burn system that provides accurate grilling at whatever temperature you set. Cooking temperatures on the Pit Boss Classic range from 180 to 500 degrees F. The black and bronze color scheme gives this grill a richer look than its price tag of about $470. Click Here to Order Online.
Best Portable Pellet Grills
Let's say you are going tailgating at the stadium, and you're cooking burgers or steaks or whatever. Now you don't have to sacrifice the awesome wood-smoked flavor of your tailgate-cooked foods.
The ASMOKE AS300 is an electric wood pellet grill that's designed for tailgating and camping. This handy grill offers 256 square inches of grill space. The outer dimensions of this portable grill are just 24.4 inches wide by 13.6 inches tall. That means it is easy to load it into the back of an SUV or a pickup truck. When it's time for cooking, this best pellet grill (portable) fits easily on a tailgate or a small table.
Everything about this grill is downsized, but it still provides big flavor to your tailgating foods. Cooking temps range from 180 to 500 degrees with even heat distribution. The hopper holds 4 pounds of pellets, which are automatically fed by auger to the ignitor. This grill requires either 110V-120V or 235W electric service, so it's great for camping, backyards, RVs and tailgating and boating.
When you buy the ASMOKE as a bundle, you also receive a waterproof grill cover, a meat probe thermometer and 40 pounds of wood pellets. Check Price and Shipping.
If you are a diehard Traeger griller and you can't settle for anything less, take heart. Traeger offers a smaller, "tailgater" model. It may not be as small and convenient at the ASMOKE AS300 model described above. But, hey—it's a Traeger grill.
This bad boy is a downsized Traeger grill that still looks like a Traeger grill. Total cooking space is 300 square inches with a max temperature of 450 degrees in 5-degree increments. The pellet capacity is 8 lbs.
It weighs 62 pounds, so get your buddy to help you lift it. The cool thing is, the legs easily fold down, so it's easier to transport than you might thing. Plus, when it is set up on the ground, it moves easily on its wheeled legs.
Check availability and shipping.
Home Garden and Homestead receives a small commission from sales made through Amazon links in this story. Thanks for supporting this website!