Best Trees for Small Yards
Most trees just don't fit into small yards. At mature size, popular trees such as oaks, maples and magnolias get too large for today's suburban lots. That's why the editors of HomeGardenandHomestead.com have created this list of the best trees for small yards.
In addition to being small enough to fit into small yards and smaller spaces within larger landscapes, these best trees for small yards also offer extra benefits. Most of the trees on our list put on a colorful show of flowers each spring and/or summer.
Many of the trees on the Best Trees for Small Yards list offer colorful fall foliage. And all of these trees are distinctive enough to become cherished horticultural focal points in your yard.
So if you've got a small space that needs a bit of pizzazz, we've got the trees for you. Once you have selected the small trees that are perfect for your yard, make sure to read How to Plant a Tree in Your Yard.
Home Garden and Homestead receives a small commission for sales generated by the links in this story. 
Lilac shrubs are very popular landscape plants, but you might not be familiar with lilac trees.  A Japanese Tree Lilac has a tree form that can reach 15-25 feet tall.
An Ivory Silk Lilac Tree (Syringa reticulata 'Ivory Silk') is an improved Japanese Tree Lilac that has fragrant, "super-sized" blooms. The huge, foot-long flower panicles bring white flowers to the landscape in June.
If you have lilac shrubs, adding this small tree is a great way to extend the blooming season long after other lilacs have finished. The creamy white flowers of Ivory Silk Lilac will fill your yard with a sweet scent in the early summer.
When the blooming season is over, the tree provides summer shade with its lovely dark green leaves. After the leaves drop, enjoy the dark red bark of this tree throughout the colder months. This tree is remarkably cold hardy (USDA zones 3-7), so it's a great choice for an accent tree in northern yards and landscapes. It's a low maintenance tree that makes a great focal point in a smaller landscape. Just trim off the lower branches to maintain its tree form.
For the best show of flowers, plant Ivory Silk Lilac Tree in full sun. It grows best in well-drained soils, so add compost if you have heavy clay soil that drains slowly. Ivory Silk Lilac Trees can be purchased online from www.naturehills.com.
A majestic magnolia tree can be a stunning focal point in a landscape. But a full-sized magnolia tree just doesn't fit into a small suburban yard.
That's why Genie Magnolia Tree is such a wonderful surprise. Genie Magnolia (Magnolia x 'Genie' PP# 20,748) is a small tree with gorgeous maroon flowers that can be used in the front yard as a focal point or in the backyard as an anchor for a perennial garden. Or, grow Genie Magnolia in a large container on a patio!
Even though Genie Magnolia's mature size is just 10 feet tall and 5 feet wide, it boasts full-sized magnolia flowers. The gorgeous maroon blooms are a much deeper color than the flowers on most magnolia trees. The tree flowers prolifically in the spring, and then it flowers again in mid-summer. There are so many flowers that you can cut a few to enjoy indoors as tabletop decorations.
Genie Magnolia grows well in USDA zones 5-9 in full sun or partial sun. Trees in a two-gallon container are available from www.naturehills.com.
A Pink Heartbreaker Weeping Redbud is a small tree with a distinctive, eye-catching shape. The weeping branches hang downward in an umbrella shape. In the early springtime, the twisted branches are covered with bright lavender flowers.
Pink Heartbreaker Weeping Redbud tree (Cercis canadensis 'Pink Heartbreaker') packs plenty of visual impact into a small tree. It is a favorite of butterflies and hummingbirds that love the nectar found in its fragrant flowers.
In summer, the dense canopy of large, dark leaves becomes another very attractive feature. The leaves have a glossy upper surface, and they shimmer in the sunlight. In the fall, the leaves turn a bright shade of yellow. So, this small tree is a colorful delight in spring, summer and fall.
There is always space for at least one Pink Heartbreaker Weeping Redbud in every yard, which is why it made our list of best trees for small yards. It's a great accent tree, and in the right space it becomes a striking focal point in the landscape.
Plant this tree in USDA zones 5 to 9 in well-drained soil. It will reach a mature size of 5-10 feet tall and 5-10 feet wide. No matter where you place it in your yard, it will soon become one of the most interesting plants in your landscape.
The typical Chaste Tree (Vitex agnus-castus) is a favorite small tree throughout the warmer regions of the US, including the South, West Coast and temperate Atlantic Coast. Chaste trees are known for the profusion of blue flowers that cover the trees in the summer.
Flip Side® Chaste Tree (Vitex x 'Bailtexone' PPAF) is a new variety named for the olive-green leaves that flip to a dusky purple color on the bottom side. Even a gentle breeze makes the tree shimmer with colorful foliage.
But the real show begins when the lavender-blue flower spikes begin to bloom. The tree literally becomes covered with fragrant flowers, which attract butterflies, bees and other pollinators. Flip Side® Chaste Tree puts out a profusion of 8-inch-long flower panicles, making the tree the perfect focal point in a small landscape.
But the show of color isn't over yet. When fall arrives, the leaves turn pumpkin orange. The autumn color is a great way for this tree to say farewell to the growing season. The colorful, multi-season foliage and flowers is why Fine Gardening magazine named Flip Side Chaste Tree a "best new variety" in 2019.
Flip Side® Chaste Tree reaches a mature size of 6-8 feet tall and 8-10 feet wide. It thrives in USDA zones 7 to 9. Available from www.naturehills.com.
Tamukeyama Japanese Maple (Acer palmatum var. dissectum) has become a favorite of professional garden designers and homeowners alike because of its deep red leaves and diminutive size.
This is not a new variety. In fact, this tree has been in cultivation for over 300 years. Tamukeyama Japanese Maple covers its cascading branches with delicate leaves that are finely textured and deeply lobed. And its red-plum leaves color the tree from spring to fall.
As it matures, this slow-growing tree assumes a dramatic weeping form that gives it a distinctive shape. Sometimes its branches droop all the way to the ground. The mounded shape of a Tamukeyama Japanese Maple is perfect for containers or raised beds.
A mature specimen is much wider than it is tall—6-10 feet in height and 10-12 feet wide. The red color of its leaves makes it a welcome sight in an otherwise green landscape, so place this tree in a prominent location where you can see it daily.
This is a beautiful tree throughout the growing season. But the fall color is simply spectacular, when the leaves turn a mix of red, purple and bronze. It grows well throughout USDA zones 5 to 8.
Plant your Tamukeyama Japanese Maple in the sun or part shade beneath a taller tree. It also appreciates an eastern exposure, where it can become a cherished specimen plant. Check Price and Availability
It's hard to go wrong with a small tree that gives you pink flowers in the spring and purple foliage throughout the summer and fall. That's why the Royal Raindrops Crabapple tree makes our list of best trees for small yards.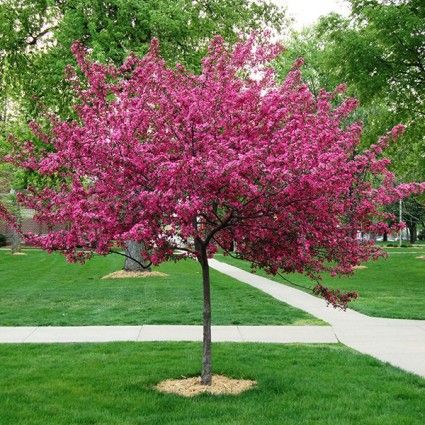 A crabapple tree in full bloom is truly a hallmark of the spring season. Who can resist the delightful display of white or pink flowers? Well, Royal Raindrops Crabapple (Malus 'JFS-KW5') improves on this traditional spring show by covering itself with outrageous magenta-pink flowers.
But that's just the beginning. After the blooming season is over, the foliage takes over. The leaves are a rich, deep purple, giving the tree color that lasts all summer. But wait, there's more. Add the red crabapple fruit that attracts wildlife throughout the year. And then add the fall color when the dark purple leaves turn bright shades of bronze, orange and mahogany.
Despite the colorful beauty of this tree, the stature of a Royal Raindrops Crabapple tree might be it's best landscape feature. The strong branches combined with an upright growth habit ensure this tree will not require lots of trimming or pruning to grow a balanced canopy. This makes it a top performer in places with windy climates. The sturdy branches won't get windswept like other crabapples are prone to do. This hardy tree grows well in USDA zones 4 to 8. It will reach 15-20 feet tall and 10-15 feet wide. Check Price and Availability
Seeing a Vanilla Strawberry Hydrangea bush in full bloom is enough to stop you in your tracks. In mid-summer, the plant bursts into color as seven-inch-long panicles of white flowers tipped with pink cover the plant.
The new Vanilla Strawberry Hydrangea Tree has been trained into a tree-like shape. Plant this tree near your front door or in another prominent spot. Make sure the Vanilla Strawberry Hydrangea Tree is placed where you and your neighbors will see it every day. It's that stunning.
A Vanilla Strawberry Hydrangea is the type of plant is bound to attract attention. Few people have ever seen a hydrangea tree, and fewer still have seen anything as stunning as this beauty.
The huge clusters of ornamental tree flowers begin as a creamy white. Then they transition to pink. Later in the summer the flowers darken to a deep strawberry-red. In its tree form, Vanilla Strawberry hydrangea tree presents the appearance of an enchanting tree of flowers. It has a slight cascading nature because some of the flowers become so large and that their weight actually pulls the red-tinted stems downward. As the season progresses, the flowering tree will take on a multicolored effect as the new flowers bloom alongside the old.
To achieve the tree form, each Vanilla Strawberry Hydrangea is grafted onto a standard tree trunk. Then it is carefully pruned for three years. As a result, this is a very rare specimen and they sell out every year.  This marvelous little tree will reach 6-7 feet tall with a spread of 4-5 feet, and it grows throughout USDA zones 4-8. A 4-5 foot tall tree in a 3-gallon container is available from www.naturehills.com.