If you have ever thought about growing a mini wildflower garden, you are not alone. Natural-looking flower gardens are more popular than ever. In fact, wildflower gardens (also called meadow gardens) are trending all over social media.
Mike Lizotte is the author of Mini Meadows: Grow a Little Patch of Colorful Flowers Anywhere Around Your Yard. He is also the owner of American Meadows, a top source for wildflower seeds including regional seed mixes that make it easy to grow a mini wildflower garden no matter where you live.
We asked Mike to give us some tips on growing a wildflower garden—or as he now famously calls them, a meadow garden. Here's what he had to say.
Can anyone grow a meadow garden?
Yes, they certainly can. My definition of a 'meadow' certainly includes large, sprawling spaces. (If you have a large plot of land, count yourself fortunate!) But a 50-square-foot-patch of lawn or a planter box in a high-rise can also be a great place for a mini wildflower garden. That's why I wrote my book! As long as you have somewhere you can sprinkle some seeds and give them a little TLC, you can grow a Mini Meadow!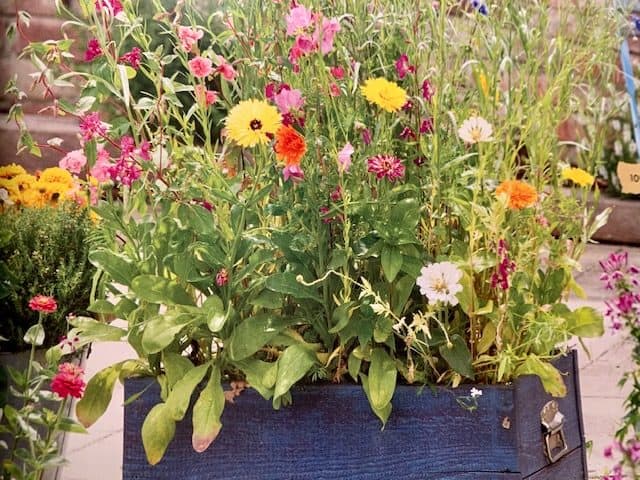 How much space do you really need for a mini wildflower garden?
I am serious about this "mini" concept! You could grow a fabulous wildflower garden on an acre or land or in a 1,000 square feet garden plot. But you can also plant wildflower seeds in a planter box. No area is too big or two small to add some seeds and create some beauty in your world.
When I hear the word "meadow," I think of green grass and wildflowers. Is that what a meadow garden is?
Our specialty at American Meadows has always been offering seed mixes to create color and beautification with a focus on flowers. That said, adding grasses for texture or aesthetic purposes could certainly be incorporated into any meadow or wildflower garden.
What are the top 3 benefits of growing a mini meadow garden or a mini wildflower garden?
Less watering, less maintenance and beautification are usually in the top three. Over the last few years, people seem more in tune with what's happening around them. They seem more environmentally aware, and they are looking to do something "good through gardening." Creating a meadow garden provides the perfect solution. It can be achieved at various budgets levels. It's fun, it's educational and a wildflower garden can provide years of enjoyment while making a positive impact on the environment.
Where do you get the seed?
It's important to work with a reputable seed company if you're thinking about adding a meadow to your property. There is a big difference in the seed/seed products a company like American Meadows or Prairie Moon Nursery sells vs. the 'watered down' products you might find at your local big box retailer.
At AmericanMeadows.com, we only sell 100% pure seed that is non-GMO and guaranteed to grow. AMI offers over 55 different mixtures and 250 individual species. Our knowledge and expertise is second to none, and we can walk you through the process from start to finish. We'll be with you step by step on your successful meadow journey.
What's the best time to plant?
The two most popular times to plant a mini wildflower garden would be spring and fall. The majority of novice and new gardens will usually gravitate to spring planting. But the more experienced gardeners know that fall presents the perfect, 'second season for planting.' So my advice is to sow or plant a meadow or wildflower garden in the autumn.
How long does it take to establish a wildflower garden?
This would really depend on what you are trying to achieve with your meadow and the flowers that you include. If you want instant gratification (in other words, flowers during the first year), you would need to incorporate some annuals such as Cosmos, Zinnia's, Sunflowers, Poppies. If you're wanting lasting color year after year, then you would plant perennials.
There are other questions you need to ask yourself. Do you want to attract pollinators? Do you have deer present on your property? Are you needing short-growing plants because you are growing a mini wildflower garden in a container or planter box? Again, I can't help but plug my own company. Because selling wildflower seeds is what we do. We can help you design or recommend the exact mix to help you achieve your gardening goals.
How much maintenance is involved?
One of the appealing aspects of creating a meadow or wildflower garden is the small amount of care and maintenance involved once your meadow is established. Now, depending on your meadow and the lifecycle of the flower species you have planted, I do recommend cutting your meadow down once a year.
Mowing your wildflower garden will help disperse the ripened seeds that the flowers produce each year. This can be done late in the growing season (November/December) or you can keep the flower heads/stalks through the winter. These flower heads provide food and nesting habitat for pollinators and other critters, so that's something a lot of people want to do. You can then cut your meadow back in the early spring. Wait until after at least a week or two of 50 degree weather, which will let the nesting critters leave the nests in the spring.
What's your favorite thing about having a meadow?
I enjoy my meadow garden in a number of ways. I started it to attract pollinators. We now have an increase in pollinators on our property every year. I also enjoy teaching my 9-year-old daughter, Sadie, all about flowers, pollinators and all things gardening. The neighbors love the meadow, and it's so much fun seeing the constant change all throughout the season. Also read: How to Attract Hummingbirds.
What else does a newbie need to know?
I would love to tell you that growing a large or mini wildflower garden is as easy as just throwing seeds out and—PRESTO!–you will have a blooming meadow in weeks. But it doesn't quite work that way. There is some work involved, especially during the initial preparation of your meadow.
But if you put the work in preparing the soil properly, you will be generously rewarded both in the short term and throughout the longevity of your meadow. A reputable seed company such as American Meadows can make the best recommendations for preparing your meadow. It's nice to have step-by-step professional advice that puts you on a path to succeed.