Best Cordless Electric Snow Blowers
Cordless electric snow blowers are better than ever. These battery-powered, cordless electric show throwers can really move a lot of snow.
As you know, gasoline-powered snow blowers have been available for quite some time. But do the best cordless electric snow blowers and snow throwers measure up to their gasoline-powered brothers? Can these clean-running battery-powered cordless electric snow throwers clear driveways and sidewalks as well as their gas-powered brothers?
The answer may surprise you. The latest generation of cordless electric snow blowers do a heck of a job and moving snow. Better than you think. Plus, you never have to start up a cold gasoline engine, and you never have to worry about running out of gas.
Battery Power is the Key
What you DO have to remember is to charge up the battery. Without a fully charged battery, a cordless electric snow blower isn't going to get the job done. But today's lithium ion batteries charge quickly and pack a lot of power. For the average homeowner, a high-quality cordless electric snow blower can certainly get the job done.
Here is a roundup of some of the best cordless electric snow blowers and electric snow shovels now available. The editors of Home Garden and Homestead have selected models at different price points and from several top-name manufacturers. So, your days of shoveling snow the old-fashioned way are about to end.
Most Powerful Cordless Electric Snow Blowers
Let's just lay all of our cards on the table here. We think the EGO Power 56-Volt Peak Power Two-Battery Snow Blower might be the best cordless electric snow blower on the market. This unit has all the power you need to get your snow moved.
The EGO 56-volt battery is fabulous. But this model uses TWO 56-volt batteries to give you the most electric power of any cordless snow blower. This combo kit also comes with 2 batteries and a powerful battery charger.
The 21-inch clearing width is wider than other battery-powered snow blowers. The 35-foot snow throwing distance is uber impressive. This beast starts easily with the push of a button and has variable speed control. The LED headlights brighten your path. And the handle folds down quickly for compact storage.
If you have the budget for the top of the line, this is the cordless electric snow blower for you. Check Price and Delivery.  
Looking for ultimate performance in a cordless snow thrower? Then check out the Greenworks 2600402 Pro. This powerful tool will quickly clear a 20-inch-wide path on any driveway, sidewalk, patio or walkway. The rotating chute will throw the snow in any direction you choose. The sleek design of this powerful snow mover makes it a pleasure to use.
The Greenworks cordless electric snow blower uses the same 80-volt batteries as the brands' other outdoor power tools. This blower comes with one battery and a charger. But if you have other battery-powered tools from Greenworks, you can charge up those batteries and use them, too. Check Price and Availability
Snow Joe products know how to handle snow. This Snow Joe cordless electric snow blower easily clears a path that is 18 inches wide and 8-10 inches deep in a single pass. This cordless electric snow blower is powered by a 1,200-watt brushless motor that can clear up to 14 tons of snow with one charge. That's a lot of snow!
This unit is equipped with a 4-blade steel auger (with waterproof rubber tips) that moves snow with ease. The adjustable chute crank can be rotated up to 180 degrees to throw snow up to 20 feet in any direction.
The Snow Joe exclusive 24-Volt iON battery features lithium-ion cells that deliver impressive performance with zero carbon emissions. An LED headlight brightens the night for safer use in low-light conditions and night use. The Snow X2-SB18 comes with two high-capacity 24-volt batteries and a charger, so you can charge one batter while the other is in use. Backed by a 2-year warranty. Check Price on Amazon     
Medium-Duty Cordless Electric Snow Blowers
The Earthwise Snow Thrower blazes an 18-inch-wide path through up to 12 inches of snow. The 40-volt brushless motor makes quick work of a snow-covered suburban driveway and sidewalk. Adjustable chute throws the snow up to 30 feet.
The 6-inch wheels are easy to maneuver in snowy conditions. Quiet, quick and dependable, the Earthwise SN74018 Cordless Electric Snow Thrower boasts heavy-duty performance at a moderate price. Check Availability
The powerful AchiForce battery-powered snow blower is perfect for clearing light to moderate snow in patios, driveways and pathways. The brushless motor offers quiet operation and a high speed of 2,200 RPM. The 7-inch wheels provide a sure grip to help this cordless electric snow blower turn a winter wonderland into a safe, snowless walkway.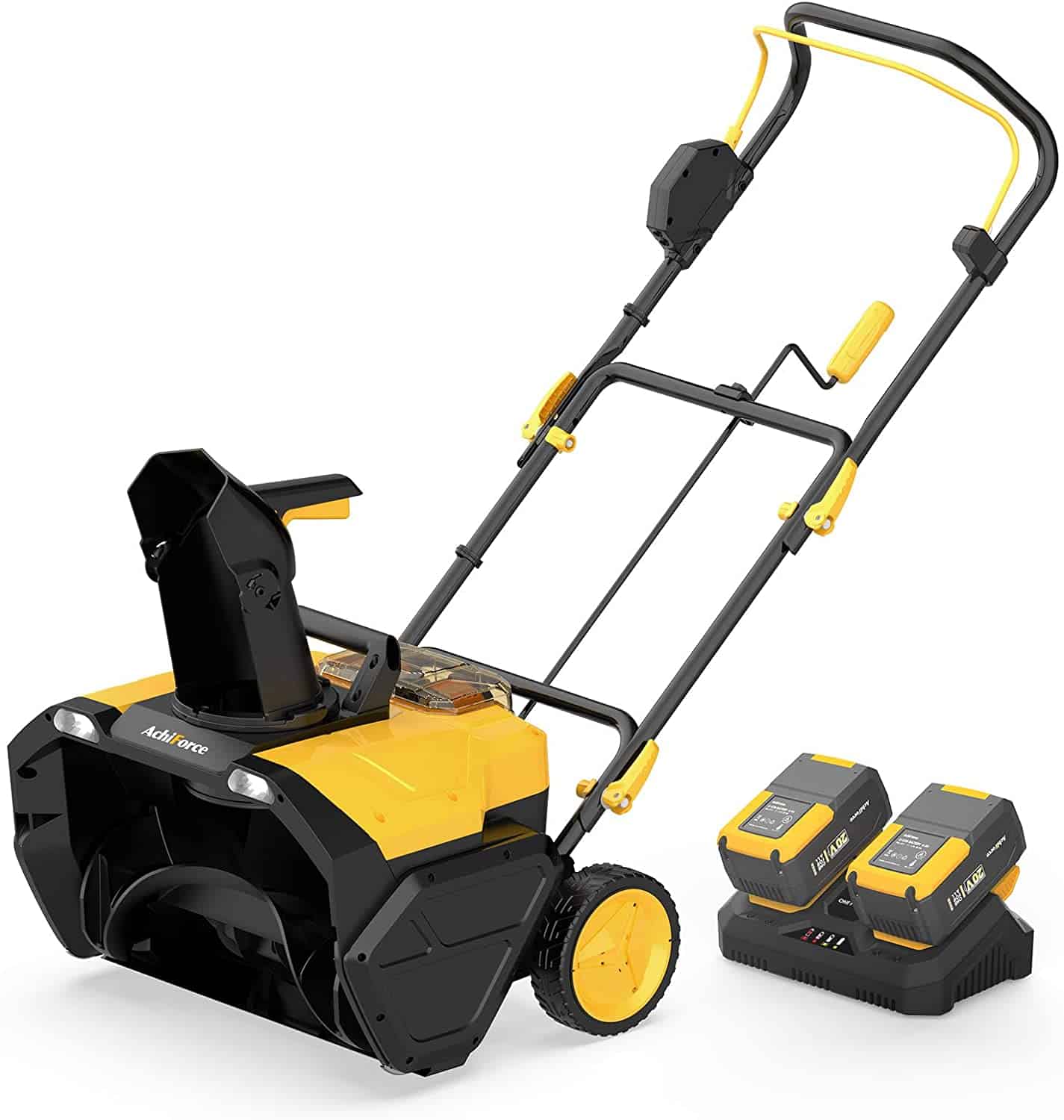 The AchiForce snow thrower easily clears a 20-inch path, and it can handle up to a foot of standing snow. The discharge chute rotates 180 degrees better snow-blowing control. Plus, the chute deflector has 8 level settings to throw snow up to 10 feet high and 20 feet away without any clogging. The robust steel construction will last for many years. ; the 60-degree chute deflector has 8 different levels and can throw snow 20 feet away and 10 feet high without clogging. Two quick-charging 4 Ah lithium-ion battery packs provide all the power you need. Check Current Price  
Lighter Duty Electric Snow Shovels
A cordless electric snow shovel is a good choice of light duty snow removal. The powerful 400-watt motor of the Snow Joe 24V-SS13 electric snow shovel can move up to 1,620 pounds of snow per battery charge. The two blades provide high impact snow removal. This model clears a path 13 inches wide and easily removes snowfalls of up to 6 inches deep.
This Snow Joe kit includes the 24V ion+ 4. 0 Ah rechargeable Lithium-ion battery and quick-charger that provides up to 22 minutes of run time. The Snow Joe 24V-SS13 is backed by the Snow Joe Customer Promise guaranty. Check Price on Amazon
The AlphaWorks Cordless Electric Snow Thrower/Shovel is designed for all lighter duty snow removal applications. This small but powerful unit can clear a 10-inch-wide path in 5-inches of snow.
The powerful 20-volt electric motor is powerful enough to remove 300 pounds of snow every minute. The powerful dual  curved auger snow-removal blades can throw snow up to 25 feet, which makes removing sidewalk snow fast and easy. Its lightweight design makes it possible for virtually anyone to operate. Additional features include an ergonomic handle that's adjustable for your height and push-button convenience. Check Current Price
Safety First
Anytime you operate a power tool, use smart safety procedures and protection. Always wear gloves, and wear eye protection to avoid injury from blowing snow. Avoid extended time in subzero temperatures, and take breaks to warm up inside

You might also enjoy reading
Be sure to Like and Follow the Home, Garden and Homestead pages on Facebook, Pinterest and Instagram. And subscribe to our YouTube channel, too!
Home Garden and Homestead receives a small commission from sales made through Amazon links in this story. Thank you for supporting this website. We appreciate it!